£9m makeover for conference centre
The University is about to complete a £9 million extension of its main conference facilities.
The University's professional conference, catering and events teams - Edinburgh First - will run the refurbished and extended John McIntyre Conference Centre.
High capacity
This latest investment will transform the conference options available at the University of Edinburgh.
The new facilities are due to open in September.
They will include the Pentland conference suite, capable of seating up to 350 people theatre style.
All of the meeting spaces are conveniently located together on the first floor.
On the ground floor, there will be a stylish new restaurant seating up to 650 with an adjoining bar and lounge.
Outstanding facilities
The new centre will include:
Four breakout rooms accommodating up to 60 delegates each
A central lounge area with exhibition space
Free Wi-Fi
State of the art audio visual equipment
An outdoor terrace with stunning views across Arthur's Seat
Modern and flexible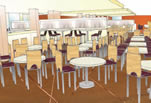 The conference centre is situated within the newly landscaped and pedestrianised heart of the main residential campus at Pollock Halls.
Chris Barnes, Assistant Director of Business Development for Accommodation Services at the University said:
"Edinburgh itself is already an extremely popular conference destination.
"The addition of this modern and flexible conference space combined with state of the art equipment, our award-winning food and service is sure to further enhance the city's and the University's appeal."
Contact details
For further information on the new John McIntyre Conference Centre contact Edinburgh First.
Special article found - identified by: 1.10841
Related Links
This article was published on