Principal takes up key JISC role
Prof Sir Timothy O'Shea is to lead the body that encourages innovative use of information technologies in universities.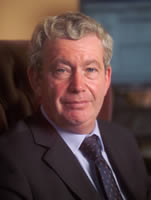 He is to succeed Professor Sir Ron Cooke as the new chair of the Joint Information Systems Committee (JISC) from 1 January 2009.
JISC supports a range of information and communication technologies (ICT) that support learning, teaching, and research in the UK.
It is best known for providing JANET - a high-speed computer network for the academic community- as well as offering a portfolio of high-quality resources.
Professor Sir Timothy O'Shea
Prof Sir Timothy O'Shea previously worked as a research fellow in the University's Department of Artificial Intelligence during the 1970s.
He subsequently worked for the Open University, where he worked on a range of educational technology research and development projects.
He also held a personal chair in Information Technology and Education.
John Selby, Director of Education and Participation at the Higher Education Funding Council for England, said:
"I am delighted that Sir Tim has accepted this important post. His wide experience in educational technology will be of great significance to the JISC Board and the way it develops its role over the next few years."
It is wonderful to be involved at the heart of a national treasure like JISC, which has a critical role to play over the coming years. Working to bring JISC's benefits to as wide a group as possible will be an ongoing concern of mine.
Joint Information Systems Committee
JISC is funded by the UK Funding Councils, the Department for Education, Lifelong Learning and Skills in Wales and the Department for Employment and Learning in Northern Ireland.
JISC works in partnership with the Learning and Skills Council and the UK Research Councils.
Related Links
This article was published on