Installation of new Rector
Iain Macwhirter has been officially installed as the Rector of the University.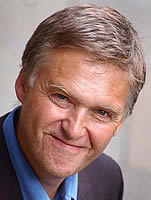 The ceremony was attended by HRH Prince Philip, Duke of Edinburgh, who is the University Chancellor, the Principal, Professor Sir Timothy O'Shea as well as by staff and students.
After the event at the Playfair Library, Mr Macwhirter was carried in a Sedan chair around Old College Quad by supporters from his campaign.
Video report on the ceremony
Watch a video report on the installation of Mr Macwhirter as the new Rector.
Media file support
To view this video you will need Adobe Flash Player installed on your computer.
The role of rector
The Rector chairs the University Court, the governing body of the University, and is elected every three years.
Mr Macwhirter's Rectorship is the 53rd at the University. He is the 50th person to hold the post, with two with Rectors holding the position for two terms.
I am extremely excited to have this opportunity to take an active involvement in the University and look to ensure the interests of both staff and students are maintained.
History
The ceremony marked 150 years since William Gladstone first took up the post as Rector at the University of Edinburgh. The role was established in law by an 1858 Act of Parliament.
This article was published on