Photos reflect spirit of innovation
A new photographic exhibition celebrates innovations from the Scottish University sector.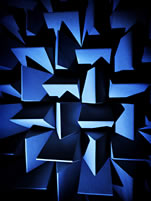 "Where Tomorrow Begins: Reflections of Scottish Innovation" is a six month touring exhibition which is part of the Homecoming Scotland celebrations.
The exhibition has been put together by Universities Scotland.
New discoveries
Three Edinburgh projects were selected for the exhibition, which features new discoveries from 15 universities and five other higher education institutions in Scotland.
Among them is the Scottish Centre for Diaspora Studies, in the School of History, Classics and Archaeology, which charts the influence Scots have had on shaping the modern world.
Also included is the Centre for Speech Technology, an interdisciplinary research centre linking Informatics, Linguistics and English Language, which is at the leading edge of voice technology.
Generation Scotland
Generation Scotland, a joint project between the Universities of Glasgow, Edinburgh, Dundee and Aberdeen in collaboration with NHS Scotland, is also part of the exhibition.
Generation Scotland was set up to investigate the causes of cancer, heart diseases and mental illness in Scotland.
Venues across Scotland
The exhibition will tour Scotland at venues in Stirling, Edinburgh, Glasgow, Inverness, Dundee and Aberdeen.
It features the work of The Sunday Herald's award winning photographer Kirsty Anderson who has captured the spirit of the innovation in 40 stunning images.
Photo credit: Sunday Herald
This article was published on