Rare Indian paintings on show
The first UK exhibition of rare Indian miniature paintings in 40 years is on display at the University's Talbot Rice Gallery.
Alongside an immersive total work of art from German artist Anton Henning, his first in Scotland, the exhibitions are the centrepiece of the gallery's contribution to the Edinburgh Art Festival.
More information on the exhibitions is available from the Talbot Rice Gallery.
Ragamala / Anton Henning
Indian miniature paintings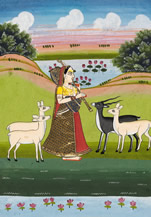 The Indian miniatures are curated from the University's Collections. Called Ragamala paintings, they date from the 19th century and originate from the Indian cities of Jaipur and Hyderabad.
The Jaipur set was gifted to the university by Dwarkanath Tagore, grandfather of Nobel poet laureate and composer of the Indian national anthem, Rabindranath Tagore.
The Ragamala paintings depict colourful romantic and devotional situations in an aristocratic setting. The word 'raga' derives from the Sanskrit root - ranj - which means to tinge or to colour and evokes love, passion and beauty, particularly of a voice or song.
This is the first time in several decades that an exhibition of Ragamala paintings has been held in the UK.
Anton Henning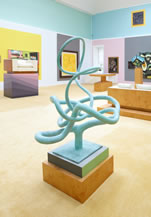 In stark contrast to the small scale of the Indian miniatures, Berlin-based Anton Henning has transformed the rest of the Talbot Rice Gallery into a Gesamtkunstwerk, a total work of art.
The space's White Gallery has been painted various pastel shades, a carpet has been laid, furniture fills previously empty spaces, and deliberately bad paintings adorn the walls.
This is Interieur No.493, Henning's first ever Scottish show. Its intention is to challenge the way modern art is viewed.
Henning uses several different art forms including, furniture, lighting, easel painting, sculpture, window painting, film and drawing to create an uncanny, immersive, and occasionally uncomfortable experience.
Talbot Rice Gallery
The Talbot Rice Gallery is the University's public art gallery.
An outstanding centre for art and ideas, the gallery presents original and relevant exhibitions within a unique historical context.
The exhibitions exemplify creativity and ambition, seen through a distinctive programme of Scottish and international artists, with informed interpretation and lively educational events.
Ragamala / Anton Henning
Admission Free.From 6 September the exhibition is open Tuesday to Saturday.
Friday 5 August 2011, 10.00am
Saturday 22 October 2011, 5.00pm
Talbot Rice Gallery, Old College, South Bridge, Edinburgh, EH8 9YL
'Vasanta Ragini' and 'Todi Ragini': © University of Edinburgh Collections, 2011. Anton Henning images: Courtesy of the artist and Blain Southern, London. © Anton Henning and VG Bildkunst.
Special article found - identified by: 1.61934
Related Links
Talbot Rice Gallery
University museums and galleries
This article was published on