Home checks could improve patients' care
Patients with long-term conditions could soon use mobile phones and the internet to monitor their health at home.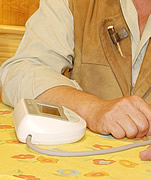 A team at the University has been awarded £1m by the Chief Scientist's Office to investigate the impact of at-home monitoring services.
These services connect patients directly to clinicians without having to visit a GP surgery.
It is hoped such technologies may lessen the burden on the NHS of an ageing population and improve the quality of patient care.
The pilot study
This project demonstrates how communication technology could revolutionise healthcare.
Patients with high blood pressure and chronic lung disease will be initially recruited to test new technology that allows them to measure their blood pressure and oxygen levels at home.
The readings will be sent via mobile phone into a central computer and collated into an online health record that can be accessed by both the patient and their GP.
If a reading is very high, the patient will automatically receive a text message reminding them to take medication or instructing them that extra treatment is required.
Their GP could then use the latest telehealth technology to speak directly via online video link to the patient in their home.
Over the next four years the project will be expanded to include 1500 patients with diabetes, stroke and chronic lung disease.
We hope to reduce the need for regular visits to GP practices, which can be very time-consuming for patients who live with these conditions for many years. We're also interested to see if allowing patients to check their health frequently at home leads to changes in their condition being detected and treated more quickly than they might have been under the current system.
Related Links
This article was published on