Holocaust memorial event
A memorial event will be held in the University Chaplaincy on Monday 28 January to mark Sunday's Holocaust Memorial Day.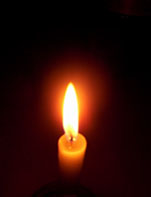 The event, themed 'remember, reflect and react', will be a chance to remember the many millions of people who lost their lives in the Holocaust.
Staff, students and the local community are welcome to attend the ceremony, which will begin at 5.15pm.
The service will be non-denominational and will represent the many different victims of the Holocaust.
It will also reflect on more recent examples of genocide such as the conflict in Darfur and ethnic cleansing in Rwanda and Bosnia.
Guest speaker will be Holocaust survivor and Edinburgh resident David Goldberg.
Mr Goldberg arrived in the UK in 1939 as part of the Kinder Transport - the mission to rescue children from Nazi occupied Europe in the months preceding the outbreak of the Second World War.
He will light the first of seven candles in memory of the victims.
The ceremony will last about 45 minutes and will also feature Yiddish music commemorating the Holocaust.
The service should act as a fitting memorial, allowing staff and students from across the University and members of our local community to come together to remember and reflect. With more recent events occurring in Darfur, Rwanda and Bosnia, it is particularly fitting that there is an opportunity to reflect and hope for a brighter future.
Event details
Holocaust Memorial Event
Monday 28 January 2008, 5.15pm
Thursday 28 February 2008, 6.00pm
Chaplaincy Centre, 1 Bristo Square, Edinburgh, EH8 9AL
Related Links
This article was published on