Honorary degree for MIT president
The President of Massachusetts Institute of Technology, Susan Hockfield, has been awarded an honorary degree.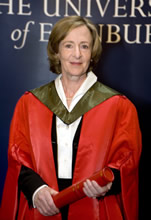 Dr Hockfield, who is also Professor of Neuroscience at MIT, received the honorary degree of Doctor Honoris Causa.
Her research has focused on the development of the brain and she is the first life scientist to lead MIT - one of the greatest higher education institutions in the world.
Brain cancer specialist
In her research, Dr Hockfield has focused on the development of the brain and on glioma, a deadly form of brain cancer.
She was a pioneer of the use of monoclonal antibody technology in the brain.
More recently, she discovered a gene and its family of protein products that play a critical role in the spread of cancer in the brain.
Inspired leadership
A native of Chicago, Dr Hockfield studied at the University of Rochester and Georgetown University School of Medicine before carrying out postdoctoral research at the University of California.
In 1985, she moved to Yale and was promoted to full Professor in 1994.
She later became Dean of Yale's Graduate School of Arts and Sciences and then Provost before joining MIT in 2004.
Dr Hockfield's inspired leadership has ensured that MIT remains at the forefront of innovation. She has helped to ensure that the Institute is a pioneer of newly evolving, interdisciplinary areas of research and that it continues to seek answers to the world's greatest challenges.
This article was published on