Assembly receives Roll of Honour
A Roll of Honour listing Ireland's Second World War dead has been compiled by an Edinburgh historian.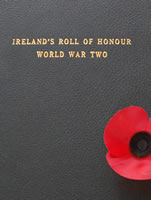 The list of men and women from the island of Ireland who died in active service will be presented to the Northern Ireland Assembly tonight.
The Roll of Honour contains the names of more than 9,000 men and women from Ireland - both north and south - who died while serving in the British, Commonwealth and Dominion Forces.
The Roll of Honour, which shows the men and women served in nearly 200 branches of the British Armed Services, will be displayed in the Northern Ireland Assembly Library at Stormont.
Video interview
Watch an interview with Yvonne McEwen from the Centre for the Study of the Two World Wars about the Roll of Honour.
Include article found - identified by: 1.19723
Contribution to Allied war effort
The research, carried out by the University's Centre for the Study of Two World Wars, is the first to quantify the contribution of men and women from the island of Ireland to the Allied war effort.
It is estimated that in the British Army alone, there may have been as many as 100,000 men and women from the north and south of Ireland serving.
Public response
A copy of the Roll of Honour was presented to Trinity College Dublin in June this year with 7,500 names of Ireland's war dead where it went on display in Trinity College Library.
Such was the interest in the project from members of the public whose relatives had fought in World War II that 1600 names have been added to the Roll of Honour.
There are now 9,100 names on the Roll of Honour that is being presented at Stormont.
Yvonne McEwen, of the Centre for the Study of The Two World Wars, said the research is a major step in portraying the full picture of Ireland's contribution to the Second World War.
I have been overwhelmed by the interest and support this project has generated.It is a historical enquiry which needed to be undertaken to help tell the story of the significant role of the Irish volunteers which, to date, has largely been untold.
This article was published on