Sporting greats launch Hall of Fame
Three Olympians and a Scottish rugby legend are the first sporting heroes to be inducted into the University's Sports Hall of Fame.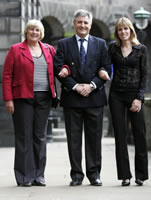 Iconic athlete Eric Liddell, star hockey player Alison Ramsay, world champion rower Katherine Grainger and rugby great Andy Irvine were honoured at a ceremony to launch the new venture.
Alison Ramsay, Andy Irvine and Eric Liddell's niece Sue Caton attended the ceremony where they received Hall of Fame awards from Professor Timothy O'Shea, Principal and Vice-Chancellor of the University.
Katherine Grainger is currently attending an elite training camp as part of her preparations for the Beijing Olympics.
Images of the four celebrated Edinburgh graduates will now adorn the walls of the Centre for Sport and Exercise and act as an inspiration to the current generation of students.
Many distinguished sports men and women from the University have contributed a huge amount on the international sporting scene. Recognising these sporting heroes not only honours those great achievements, but also serves as an inspiration to the students of today and tomorrow.
The inductees
All four of the inductees developed their love of sport while they were students at Edinburgh.
Eric Liddell, who famously won Olympic gold at the Paris Olympics in 1924, triumphed in the same year as he graduated;
Alison Ramsay, a bronze Olympic medallist at Barcelona in 1992, started playing hockey while studying at Edinburgh;
Katherine Grainger, Britain's most successful Olympic female rower, took up the sport at university in 1993;
Andy Irvine won the first of 51 Scottish caps in 1972 while completing his science degree.
A winning University
Our sports facilities are among the finest in the UK. We provide bursaries, training programmes and a range of support services to help gifted students realise their sporting potential.
This article was published on