Summer graduations
Our Summer graduation ceremonies took place between Monday 27 June and Tuesday 5 July.
One of modern cinema's greatest film actresses, Maggie Cheung, was among a number of public figures who received honorary degrees at the summer graduation ceremonies.
Graduation ceremonies
Full details of all our Summer graduation ceremonies are available from our Registry website.
Honorary graduates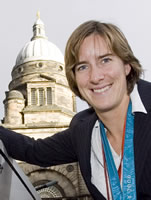 Maggie Cheung
Maggie Cheung, who has appeared in more than 70 films and is renowned for her stunning performances in In the Mood for Love and Hero, received an honorary degree on Friday 1 July.
Irina Bokova
On Wednesday 29 June an honorary degree was awarded to Irina Bokova, Director General of UNESCO.
Katherine Grainger
On Monday 4 July an honorary degree was awarded to Katherine Grainger, three-time Olympic rowing silver medallist and Edinburgh alumna.
Olivia Giles
Olivia Giles, the founder and Chief Executive of the 500 miles charity which supports amputees and other disabled people in Malawi and Zambia, received an honorary degree on Friday, 1 July.
Full list of honorary graduates
The full list of honorary graduates can be found on our registry website.
Benefactor Award
On Tuesday 5 July Ronald Storey was presented with a University Benefactor award.
Mr Storey donated £1.26 million to the University, honouring a pledge he made to life-long friend, Edinburgh graduate Dr George Birtwisle.
These funds will play a major part in the creation of a new imaging centre at the College of Medicine and Veterinary Medicine.
The award recognises people or organisations that have made significant contributions to the University.
Service of Thanksgiving
On Friday 1 July a service of thanksgiving for graduating was held from 12 - 1pm in Greyfriars Kirk. There was an address by Professor Larry Hurtado, followed by lunch.
Service of Thanksgiving for Graduating
Special article found - identified by: 1.61934
Photography: Katherine Grainger: Paul Edwards.
Related Links
Graduation ceremonies
10% discount on postgraduate fees for graduates
Alumni Services
Graduations
This article was published on