In conversation with Arun Gandhi
Dr Arun Gandhi, grandson of Mahatma Gandhi, will address "Living Non-Violence" in a public event on Tuesday 6 October.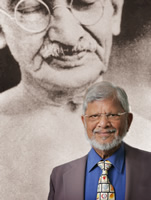 The event, hosted by the University Chaplaincy, will be held in the McEwan Hall, Bristo Square at 5.30pm.
Dr Gandhi will talk about the guiding principles of his grandfather and how the philosophy of non-violence is pursued in social change.
This event is the University's annual Multi-Faith Public Conversation and Rev Professor Frank Whaling, of the Edinburgh Inter-Faith Association, will facilitate.
Book online
Online booking is now closed for this event.
Arun Gandhi
A speaker of international acclaim, Arun Gandhi's unique talents and cross-cultural experiences have brought him before many audiences all over the world.
His work is based on the lessons he learned first-hand from his grandfather, the legendary peace fighter and spiritual leader, Mahatma Gandhi.
Arun lived with his grandfather for 18 months during the campaign for independence from British rule.
The experience shaped the foundation for his life's work as he watched Mahatma Gandhi lead the people of India using a powerful philosophy of non-violence.
In 1991 Arun Gandhi founded the M.K. Gandhi Institute for Nonviolence.
The Institute's mission is to foster understanding of non-violence and to put that philosophy to practical use through workshops, lectures, and community outreach programmes.
The University Chaplaincy
The University Chaplaincy provides pastoral and spiritual support for students and staff of all faiths and none.
Event details
Multi-Faith Public Conversation by Arun Gandhi: Living Non-Violence
Everyone is invited for refreshments after the lecture. This event may be photographed or recorded for promotional or recruitment materials for the University and University approved third parties.
Tuesday 6 October 2009, 5.30pm
Tuesday 6 October 2009, 6.30pm
McEwan Hall, Teviot Place, Edinburgh, EH8 9AG
Contact details
For more information on this event please contact the Chaplaincy.
Special article found - identified by: 1.16720
Related Links
This article was published on