Student awarded top research scholarship
An Edinburgh student has been awarded a US-UK Fulbright Scholarship, one of the most prestigious awards programmes operating worldwide.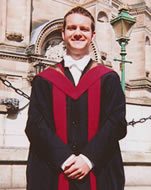 Dr Oliver Maddocks, 28, won the Fulbright-AstraZeneca Research Scholarship.
This is given annually to a post-doctoral scientist who wishes to carry out scientific research in the USA.
Oliver recently completed a PhD in the molecular genetics of colorectal cancer at the Institute of Genetics and Molecular Medicine.
He will now work for a year at the University of Maryland, where he will investigate the role of bacteria in colon cancer development.
The Fulbright scheme
Since its foundation in 1948, approximately 15,000 students from the UK have been given the opportunity to study in the United States.
Nearly 27,000 US nationals have come to study in the UK.
Each year, around 1000 students apply for 50 scholarships, and competition for the AstraZeneca award is particularly fierce.
It is a great honour to receive such a prestigious award and I am delighted to have the opportunity to continue this exciting research. I'm looking forward to working and living in the US and aim to gain as much as I can from the experience, both academically and personally.
This article was published on