Scottish Cup results
The University football club once again competed in the Scottish Cup, narrowly losing to the Civil Service Strollers.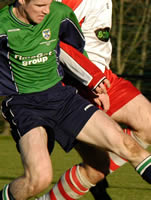 The first round of the national trophy was played at East Peffermill on Saturday. The Strollers 2-1 victory sees them progressing to the second round.
Our student team will concentrate on their progress in the East of Scotland Premier League.
Building on league success
EUAFC is determined to build on its impressive performance last season when the team finished second in the East of Scotland Premier League.
The side lost only three times in the 22-match schedule, conceding just 14 goals.
As the new season unfolds, an energetic and enthusiastic young squad is shaping up well for the challenges and opportunities which lie ahead in 2008/09.
A winning university
Our sports facilities and programmes are among the finest in the UK. We were rated 4 out of 140 institutions in the Independent's Complete University Guide 2008-09.
We provide bursaries, training programmes and a range of support services to help gifted students realise their sporting potential
This article was published on