Student footballer steps up a grade
Former football club captain Jamie Redman is the latest University player to join the semi-professional ranks.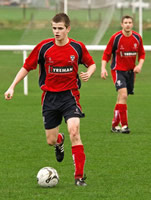 Jamie, who has recently completed a degree in Chemical Engineering, has signed for Scottish Football League side Arbroath.
In 2008/2009, Jamie was the captain of the University's First XI, as well as its top goal scorer. He also captained the Scottish Universities football team.
Jamie is the third University player to join a league club in the last 12 months.
Former player Scott Bennett currently plays for Stenhousemuir, and Andrew Cook signed for Raith Rovers.
Coaching improvement
While Jamie played for several Scottish clubs at youth level, he came to the University thinking that his chance of playing football professionally had gone.
However, the coaching provided by the University helped lift his game to a higher level, he said.
The coaches at the University were perfect for me. They believed in me from the start, and really helped me and improved my game.
Now, Jamie - a hard-working central midfielder - will try and establish himself in the Arbroath first team.
He has started training with the Arbroath squad, and scored in the team's recent pre-season friendly against Queen of the South.
University challenge
In 2008/2009, Edinburgh University Association Football Club (EUAFC) finished a creditable fourth in the league and were beaten finalists in the SFA South Regional Challenge Cup.
EUAFC head coach Douglas Samuel said the team is confident of challenging for trophies yet again in 2009/2010.
It's extremely pleasing that senior clubs recognise that there is talent at the University.
A winning university
Our sports facilities and programmes are among the finest in the UK.
We were rated 4th out of 140 institutions in the Independent's Complete University Guide 2008-09.
We provide bursaries, training programmes and a range of support services to help gifted students realise their sporting potential.
This article was published on