Footballers ready for cup test
Come and support the University football club in its bid for Scottish Cup glory this weekend.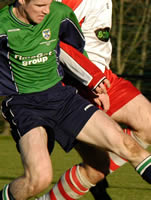 The students meet East of Scotland First division side Civil Service Strollers in the first round of the national trophy at East Peffermill on Saturday.
Everyone connected with the side is hopeful that the team can record their third Scottish victory in three years.
Last season the students recorded a convincing 3-1 home win over Deveronvale in the second round before losing narrowly to Highland League Cove Rangers.
And, in 2006/07 season, they beat Highland League Keith 2-1 in the first round ahead of second defeat to Scottish League side Cowdenbeath.
Home support inspires team
Alan Chainey, Secretary of the EUAFC Development Committee, believes that a healthy home support on Saturday can help inspire the side once more.
It was clearly demonstrated in the victories against Keith and Deveronvale that a few hundred supporters can have a massive impact on the motivation and confidence of a young University team.
Building on success
EUAFC is determined to build on its impressive performance last season when the team finished second in the East of Scotland Premier League.
The side lost only three times in the 22-match schedule, conceding just 14 goals.
As the new season unfolds, an energetic and enthusiastic young squad is shaping up well for the challenges and opportunities which lie ahead in 2008/09.
Event details
Edinburgh University AFC v Civil Service Strollers
Admission charges for the game have been set at £4 entry, with concessions (including students) at £2. The match programme is priced at £1, which includes entry into a prize draw at half time.
Saturday 27 September 2008, 3.00pm
Saturday 27 September 2008, 3.00pm
Peffermill Playing Fields, 42 Peffermill Road, Edinburgh EH16 5LL
A winning university
Our sports facilities and programmes are among the finest in the UK. We were rated 4 out of 140 institutions in the Independent's Complete University Guide 2008-09.
We provide bursaries, training programmes and a range of support services to help gifted students realise their sporting potential
This article was published on