Festival events at the University
The University is again at the forefront of the festival this summer, as we play host to some of the best shows on the Fringe.
At the heart of the Fringe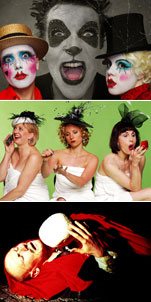 The University is the largest venue owner on the Fringe and every summer we provide homes to some of the biggest players on the festival scene. This year is no exception.
The Underbelly return to Reid Hall and Bristo Square, but this year also sees their debut at Appleton Tower, with 'Office Party' and the popular 'Silent Disco'.
Old College Quad, a firm favourite on the Fringe circuit, excites again with Teatr Novogo Fronta's apocalyptical allegorical theatre show 'Phantomysteria'.
The Medical School at Teviot Place hosts a new venue, "Sweet Teviot" and St Cecilia's Hall will be home to Kristin Hersh's one woman show as part of the Edge Festival.
Assembly Theatre at New College have an extraordinary programme featuring some of the best shows in the Fringe.
We also welcome back:
C Venues to Adam House;
Pleasance Theatre to Potterrow and Pleasance venues;
Gilded Balloon to Teviot Row;
The Famous Spiegeltent to George Square Gardens;
The home of musical theatre
New to the bill this year is 'Musical Theatre at George Square', which will showcase the best in musical theatre across four sites.
Centred at the recently refurbished George Square Theatre, the project also features one-off specials, masterclasses, and workshops.
Highlights include Elaine Paige, Fascinating Aida, Big Bands, Ken Campbell, Improv Musicals, Burlesque and Cabaret.
Musical Theatre at George Square
Box office: 0131 662 8740
Tuesday 29 July 2008, 11.00pm
Sunday 24 August 2008, 11.00pm
George Square, Edinburgh
Show details and how to book
To book for Musical Theatre at George Square, Old College Quad and St Cecilia's Hall call our Box Office on 0131 662 8740.
The University Festivals Office has full details of all shows and venues.
University staff concession
Concession rates are available for University staff by showing a valid staff card for all our own shows, subject to availability. More information is available from the Festivals Office.
This article was published on