Scotland's fertility: public debate
The University is hosting a public debate on fertility issues in Scotland as part of the ESRC Festival of Social Science.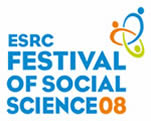 The debate, "Scotland's Fertility: Changing Trends" will be held in the Prestonfield Room, John McIntyre Building, Pollock Halls on Wednesday 12 March at 2pm.
Topics up for debate will include:
the reasons behind Scotland's low fertility rate
the impact of social change
the effectiveness of policy interventions which promote fertility
Presentations on recent research findings will be made by scholars from the University of Edinburgh and the University of St Andrews.
The event will end at approximately 5pm and will be followed by a reception.
This lecture is hosted in association with the Scottish Government.
This is a free public event and is not ticketed. Please just turn up on the door.
Event details
Scotland's Fertility: Public Debate
Wednesday 12 March 2008, 2.00pm
Wednesday 12 March 2008, 5.00pm
John McIntyre Building, Pollock Halls (off Holyrood Park road)
Contact details
For more information contact Kirstie Whelan, Office of Chief Researcher, The Scottish Government.
Special article found - identified by: 1.2216
This article was published on