Fifth birthday for Fairtrade
Edinburgh is celebrating its fifth anniversary as Scotland's first Fairtrade University.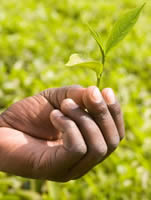 Students and staff are invited to a series of events, including a Fairtrade Tea party, to mark the milestone.
The tea party, hosted by the University and EUSA, will take place in the Balcony Room, Teviot Row House, between 3.30pm and 5pm on Tuesday 24 February.
A Fairtrade fifth birthday cake will be provided as part of the celebrations.
The party will be attended by special guest - Towera Jalakasi, a Fairtrade consultant and expert from Malawi, courtesy of the Scottish Fair Trade Forum.
EUSA president Adam Ramsay is urging students and staff not to abandon their support of Fairtrade as the global financial crisis deepens.
He has also invited student presidents from other local universities to join him.
Since the University of Edinburgh has become a Fairtrade university, thousands of farmers have been helped out of poverty. As the credit crunch hits every sector of the global economy, it's crucial that people continue to buy Fairtrade, ensuring the poorest aren't hit hardest by this recession.
Fairtrade Fortnight
The party is part of Fairtrade Fortnight, which runs from February 23 to March 8. Fairtrade Fortnight highlights include:
A talk by Norman Chipakupaku, former Zambian politician and trade justice campaigner.
A talk by Bolivian nut farmer Alex Chamas on how nuts can help save the Amazon rainforest.
A panel debate "Can your shopping basket change the world?"
A lecture, "Fair Trade: feel good-fashion or global blueprint?"
Full details of all events are available from the Procurement Office.
Fairtrade commitment
The University has a long term commitment to the use of Fairtrade products and is proud to be Scotland's first Fairtrade University.
This means that every tea or coffee that is served in the University or students union is Fairtrade certified.
This positively affects many third-world farmers. Fairtrade chocolate, drinks and clothing are available in University and Union outlets.
The University, Students Association and campaign groups continue to cooperate to achieve 'Fairtrade City' status for Edinburgh, and celebrate Fairtrade Fortnight.
What is Fairtrade?
Fairtrade is about better prices, decent working conditions, local sustainability, and fair terms of trade for farmers and workers in the developing world.
For 500,000 workers and farmers in the developing world, Fairtrade means better terms of trade and decent production conditions.
It also offers an opportunity to invest in facilities, like schools and healthcare, to benefit the community.
The Fairtrade Foundation, with its partners, maintains these standards by regularly inspecting third world suppliers, and checking contracts and trade terms.
The FAIRTRADE MARK is a registered certification label for products sourced from producers in developing countries meeting international fairtrade standards.
This article was published on