Fairtrade Fortnight 2011
We are again celebrating Fairtrade Fortnight at the university with a series of events to showcase the benefits of buying Fairtrade.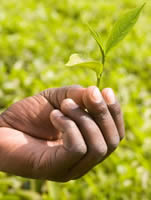 Fairtrade Fortnight runs from 28 February - 13 March.
Our events
University events include:
Fairtrade football using slave-free footballs, with Fairtrade oranges at half time
Fairtrade cafe serving Fairtrade treats
Taking your tutor for a Fairtrade tea
More information on our Fairtrade Fortnight events is available on our Fairtrade website.
Fairtrade
Fairtrade commitment
The University has a long term commitment to the use of Fairtrade products and is proud to be Scotland's first Fairtrade University.
This means that every tea or coffee that is served in the University or students union is Fairtrade certified.
This positively affects many third-world farmers. Fairtrade chocolate, drinks and clothing are available in University and Union outlets.
The University, Students Association and campaign groups continue to cooperate to achieve 'Fairtrade City' status for Edinburgh, and celebrate Fairtrade Fortnight.
What is Fairtrade?
Fairtrade is about better prices, decent working conditions, local sustainability, and fair terms of trade for farmers and workers in the developing world.
For 500,000 workers and farmers in the developing world, Fairtrade means better terms of trade and decent production conditions.
It also offers an opportunity to invest in facilities, like schools and healthcare, to benefit the community.
The Fairtrade Foundation, with its partners, maintains these standards by regularly inspecting third world suppliers, and checking contracts and trade terms.
The FAIRTRADE MARK is a registered certification label for products sourced from producers in developing countries meeting international fairtrade standards.
Related Links
This article was published on