Fairtrade Fair 2008
The University is to mark Fairtrade Fortnight with a Fairtrade display at Appleton Tower Concourse on Thursday 28 February.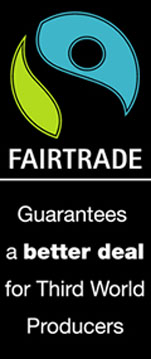 It is our fourth anniversary as Scotland's First Fairtrade University, a range of suppliers and retailers will be showcasing Fairtrade products as part of Fairtrade fortnight.
This event is open to all staff and students who want to learn more about Fairtrade products and the University's Fairtrade Policy.
Fairtrade fortnight runs from 25 February to 9 March 2008.
Events
Fairtrade events include:
A chance to meet Kenyan Fairtrade tea producer Julius Ethang'atha in the Raeburn Room, Old College, on Wednesday 27 February at 2:30pm.
A Fairtrade football match at Jawbone Walk on the Meadows on Saturday 1 March at 11:30am.
A screening of the award-winning film Black Gold in the Oxfam shop in Nicolson Street on Tuesday 4 March at 6pm.
Our Fairtrade Commitment
The University has a long term commitment to the use of Fairtrade products and is proud to be Scotland's first 'Fairtrade University'.
This means that every tea or coffee that is served in the University or students union is Fairtrade certified.
This positively affects many third-world farmers.
Furthermore Fairtrade chocolate, drinks and clothing are available in University and Union outlets.
The University, Students Association and campaign groups continue to cooperate to achieve 'Fairtrade City' status for Edinburgh, and celebrate Fairtrade Fortnight.
Event details
Fairtrade Day 2008
Thursday 28 February 2008, 10.00am
Thursday 28 February 2008, 4.00pm
Appleton Tower, 11 Crichton Street, Edinburgh, EH8 9LE
What is Fairtrade?
Fairtrade is about better prices, decent working conditions, local sustainability, and fair terms of trade for farmers and workers in the developing world.
For 500,000 workers and farmers in the developing world, Fairtrade means better terms of trade and decent production conditions.
The Fairtrade Foundation, with its partners, maintains these standards by regularly inspecting third world suppliers, and checking contracts and trade terms.
The Fairtrade Mark is an independent consumer label which appears on UK products as a guarantee that they have given their producers a better deal.
This article was published on