Investing in the student experience
The University is to invest £4 million over the next three years to enhance the student experience.
The ongoing financial commitment will mean that students will benefit from as much support as possible from both staff and fellow students.
Starting from their first experience as a new undergraduate, this support will help students maximise their time at Edinburgh and support their transition to life beyond University.
The money will fund a variety of initiatives, including a strengthening of University-wide student services.
Initiatives are aimed at ensuring that the levels of student support and guidance at Edinburgh are second to none.
Personal Tutors
Among the initiatives will be a new system of Personal Tutors. Every undergraduate student will be appointed a Personal Tutor who will:
help them review their academic progress
provide opportunities for them to reflect on how their learning can help them pursue their future development
foster in them a sense of belonging to a community of learners
As part of this process there will be new roles created for Senior Tutors and each of the three Colleges within the University will also appoint a Dean of Students.
IT tools will also be created to facilitate interactions between Personal Tutors and students, to help students reflect on their performance and to share their reflections.
The steps we're taking will enable us not just to maintain but to enhance the quality of the student experience.
Sharing experience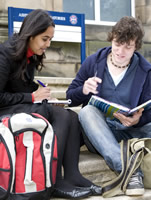 The Edinburgh University Students' Association (EUSA), with support from the University, plans to develop existing informal peer support or "buddy" systems.
Buddy systems will mean that incoming students can call on the help and advice of more experienced students as they progress through University life.
Greater interaction
Professor Dai Hounsell, Vice Principal, Academic Enhancement said:
"The student population has been growing and the student demographic has been changing.
"There is a wider range of students at the University all with different needs, and we need to ensure that the support we're providing them with makes good use of the most up-to-date strategies and technologies.
"The steps we're taking will enable us not just to maintain but to enhance the quality of the student experience.
" We are aiming to foster even greater interaction between academic staff and students and to help students focus on their future careers."
The new support system will be phased in from the start of the forthcoming academic year.
This article was published on