First Minister makes Europa date
First Minister Alex Salmond is to welcome delegates to a key conference hosted by the University's Europa Institute.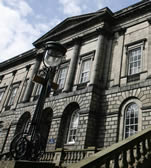 Mr Salmond will host a reception on Monday evening at the National Gallery of Scotland to herald the start of the conference.
Ideas on Europe
The three-day meeting is the annual conference of the University Association for Contemporary European Studies and takes place at the Appleton Tower.
Entitled, Exchanging Ideas on Europe, it is one of several events which mark the Europa Institute's 40th anniversary.
With more than 400 delegates, and nearly 100 panels of research papers, this is the largest gathering of academics and research students in the field of European studies that the UK has ever seen.
Gala dinner
On the second day of the conference, Scottish Government Europe Minister, Linda Fabiani will be guest of honour at a gala dinner, hosted by University Principal Professor Sir Timothy O'Shea.
After the dinner, an award will be presented to the Institute's Chairman, Professor Sir David Edward, to mark his lifetime achievement in the area of European studies.
Europa Institute
The Edinburgh Europa Institute opened as the Centre of European Governmental Studies in November 1968.
The institute specialises on advanced research and teaching on European Integration. It is the longest-established institute of its kind in the UK, and one of the oldest in Europe.
Anniversary events
Other events to mark the Europa Institute's 40th anniversary have included a lecture by the First Minister and a conference to mark the 50th anniversary of the Treaty of Rome.
Still to come is a lecture by Peter Sutherland, former European Commissioner and Director General of the WTO, in December 2008.
Related Links
This article was published on