Enrico David at the Talbot Rice Gallery
Talbot Rice Gallery is pleased to present Ultra Paste, a major solo exhibition by Italian born artist Enrico David.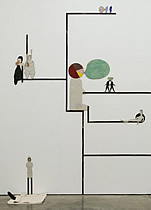 Ultra Paste had its first showing at the Institute of Contemporary Arts in London in 2007 where it met with considerable critical acclaim.
This is the artist's first exhibition in Edinburgh.
David's work is impertinent, questioning and vital. It reacts to a world of hysterical correctness and etiquette that demands that we comply to social normality.
The exhibition runs until 10 May 2008 and admission is FREE.
Enrico David is presented in collaboration with the ICA and supported by the Arts Council England. The Elephant Trust has contributed to the artist's fee.
Event details
Enrico David – Ultra Paste
Exhibition is open Tuesday to Saturday, 10am - 5pm.
Saturday 22 March 2008, 12.00am
Friday 9 May 2008, 11.00pm
Talbot Rice Gallery, University of Edinburgh, Old College, South Bridge, Edinburgh, EH8 9YL
Special events
Musical Moments
Thursday 1 May, 7pm
Talbot Rice is delighted to present, in partnership with the Italian Consulate, an evening concert of Italian music.
The Reid Quartet is made up of University of Edinburgh students and will play a programme of music by Rossini, Puccini and Verdi in the splendor of the Georgian Gallery.
Tickets are £5/£3 available from the gallery in person or by phone or email.
The Talbot Rice Gallery
The Talbot Rice Gallery promotes knowledge, understanding and new ideas, realised through thematic exhibitions, events and publications.
The Gallery presents up to 5 major exhibitions per year in the main gallery and additional projects in the round room space.
A full menu of public events supports the temporary exhibitions programme.
Related Links
This article was published on