Enlightenment Lecture: Steve Jones
Leading geneticist Steve Jones asks 'Is Human Evolution Over?' as part of the Enlightenment Lecture Series.
Lecture video
The lecture was recorded live at the McEwan Hall on Tuesday 22 September at 6pm.
The lecture
In his lecture Prof Jones argues that the signs show - at least in the developed world for now - that human evolution has slowed down or stopped.
Plenty of people are surviving who once did not, or are having children when once they would have stayed celibate, he says.
And, he adds, medicine can now offer treatment for many with damaged genes that can then be passed on.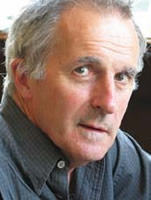 Steve Jones
Steve Jones, a graduate of Edinburgh, is Professor of Genetics at University College, London.
He is an award-winning science author, columnist and presenter for both television and radio.
Much of his work focuses on evolutionary biology, human evolution and variation, race, sex and inherited disease.
His written works have attracted much critical acclaim including the Rhone-Poulenc book prize for "The Language of the Genes" (1994) and the BP Natural World Book Prize for "Almost Like a Whale" (1999).
He has appeared on BBC radio and television, is a regular science writer for the Daily Telegraph newspaper and frequently visits and speaks at schools.
The Enlightenment Lectures
The University's Enlightenment Lectures examine aspects of the Enlightenment's legacy in the context of our own fraught and hectic times.
We invite you to join us as global leaders in politics, philosophy, science and economics discuss their views and outlook.
Previous speakers include Joseph Stiglitz, Daniel Dennett and Irene Khan.
Event details
Prof Steve Jones - Is Human Evolution Over?
This event may be photographed or recorded for promotional or recruitment materials for the University and University approved third parties.
Tuesday 22 September 2009, 6.00pm
Tuesday 22 September 2009, 7.45pm
McEwan Hall, Teviot Place, Edinburgh, EH8 9AG
Contact details
For more information on this event please contact Deepthi De-Silva Williams.
Special article found - identified by: 1.2880
This article was published on