New Art College Principal
The Head of Research at the Victoria & Albert Museum will be the new Principal of Edinburgh College of Art.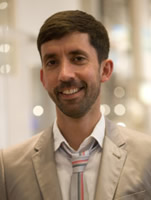 Professor Chris Breward
A graduate of the Courtauld Institute and the Royal College of Art, Professor Breward taught the history of design at the college between 1994 to 1999 before becoming Research Director at the London College of Fashion.
He moved to the V&A in 2004. Professor Breward is a fellow of the Royal Society of Arts and an honorary fellow of the Royal College of Art.
I'm delighted to be joining Edinburgh College of Art and The University of Edinburgh at such an exciting moment.The new partnership between two leading institutions offers enormous potential for forging innovative teaching and research relationships that will have impact across and beyond the fields of art, architecture, history of art, design and music.
As well as becoming Principal of Edinburgh College of Art, Professor Breward will be a Vice-Principal of the University of Edinburgh.
Professor Breward is currently co-curating the V&A's major exhibition for 2012, British Design 1948-2012: Innovation in the Modern Age.
Looking ahead
The College will officially merge with the School of Arts, Culture and Environment at University of Edinburgh on 1 August 2011, to create a new and strengthened Edinburgh College of Art comprising Art, Design, Architecture and Landscape Architecture, History of Art and Music.
This is a hugely exciting time for Edinburgh College of Art and for the University as they enter a new era in their distinguished histories. I'm personally delighted that Professor Chris Breward will be leading the College into this new era, with all the opportunities for collaboration and creativity that it allows.
Special article found - identified by: 1.61934
Related Links
This article was published on