Diversions Film Festival
Diversions is Edinburgh's first festival of experimental film and video, running from 8 - 11 May.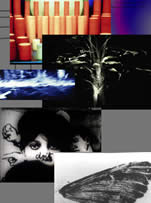 This unique new event is presented by Film Studies at the University and Filmhouse.
The festival brings together some of the most important experimental film and video works from the 1920s to the present.
Over fifty short, medium and feature-length films will be shown, from historical classics to contemporary works from Britain, USA, France and Finland.
Special guests include Pip Chodorov, Frédérique Devaux, Sami van Ingen, Al Rees, David Curtis, Stephen Partridge and Peter Rose.
All screenings will take place at Filmhouse, 88 Lothian Road, Edinburgh, EH3 9BZ.
Full details of all screenings are available on the Diversions Film Festival website.
Event details
Diversions Film Festival
Thursday 8 May 2008, 12.00am
Sunday 11 May 2008, 12.00am
Filmhouse, 88 Lothian Rad, Edinburgh, EH3 9BZ
This article was published on