Degree Show launches art's next generation
For 10 days in June the studios, offices, lecture theatres, cupboards and every nook and cranny of Edinburgh College of Art are transformed into the city's biggest gallery space.
At times beautiful, confounding and occasionally challenging, the annual Degree Show celebrates the work of hundreds of graduating artists, designers and architects.
Opening times
The graduates' work is on display from 2 to 11 June at both the Lauriston Place campus and Minto House on Chambers Street.
The Degree Show is open Monday to Thursday from 10am to 8pm, and Friday to Sunday from 10am to 5pm.
Edinburgh College of Art Degree Show
New era
The Schools of Art, Design, and Architecture and Landscape Architecture have combined for the first time with Music and History of Art for this year's show.
Previous shows have launched the careers of BAFTA and Turner Prize winners. This year's highlights are as diverse as the subject areas.
Follow news and reaction to this year's show via the Twitter hashtag egreeshow.
Indoor weather systems and robot art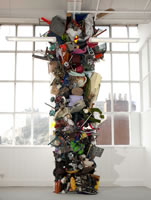 In Intermedia, Owen Ramsay's work, Occasional Showers, recreates the experience of standing on a Scottish mountain top inside the studio space.
His mini weather system is complete with high winds and drizzle.
Elsewhere a large mechanical arm etches an artwork on the blank wall of the studio, its movement is controlled by where the public stand on the floor in front of it.
Bingo halls and hidden rooms
In Sculpture, Hans Clausen has taken the disused artworks from the second and third year shows earlier this year and created a mine shaft crammed with pre-used art that flows from ceiling to floor.
Next to it is a vending machine that dispenses wishes.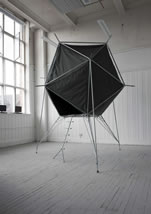 With a challenging economic outlook, student William Darrel wishes to retreat from the pressures of modern life. To help, he has built a pod, complete with a hammock inside, in which he intends to live after graduation.
A maze has been created in one of the sculpture studios, complete with dark passageways, wrong turns, a mysterious mist, and glimpses of hidden rooms.
Elsewhere a bingo hall has been recreated in all its stale-lager, ash-tray festooned 1970s glory, and a mini circus tent contains an interactive game with a secret that is only revealed upon completion.
Of quartz and fairy tales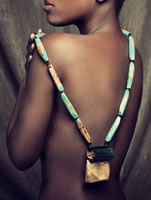 In Jewellery and Silversmithing, Mari Ebbitt built her work around her grandfather's stone collection, crafting broaches and rings out or coral, quartz and Brochantite.
Photography student Caroline Alexander has staged modern versions of Red Riding Hood, Snow White and Sleeping Beauty.
Other works capture toxic levels of food such as salt, chillis, water and oranges with an advertiser's flourish, while others document Europe's new ghost towns: semi-finished, ghost towns built for rich ex-pats in Spain.
Chinese sunflowers and steak bakes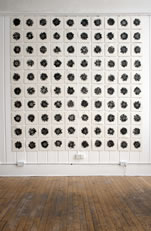 In painting, Celyn Bricker's show took him to China. He placed paintings of flowers in front of CCTV cameras around Beijing, including in front of artist Ai Weiwei's studio. All were eventually removed by authorities.
He has also hand drawn hundreds of sunflowers and sent them to prominent Chinese officials. As well as the pictures he sends a website address. Once the individual logs on, one block of a digital picture is filled in online.
Among many artworks rendered with obsessive detail, there are drawings of Greggs factories and empty libraries, paintings of old Edinburgh high rises and Highland moss.
Event details
Edinburgh College of Art Degree Show
Including Jubilee Bank Holiday 5 June. Open Monday to Thursday from 10am to 8pm and Friday to Sunday from 10am to 5pm.
Saturday 2 June 2012, 12.00am
Monday 11 June 2012, 12.00am
Venues
The work for the Schools of Art and Design, Architecture & Landscape Architecture is on display at the Lauriston Place Campus, Edinburgh EH3 9DF.
Architecture and Landscape Architecture graduates also have work displayed at Minto House, 20-22 Chambers Street, Edinburgh, EH1 1JZ.
Related Links
Edinburgh College of Art Degree Show 2012
Undergraduate study - School of Art
Undergraduate study - School of Design
Undergraduate study - Architecture and Landscape Architecture
Undergraduate study - History of Art
Undergraduate study - Music
This article was published on