University Christmas lecture by Tam Dalyell Prize winner
The complex nature of fire - which can inspire familiarity or fear - was explored in last year's Christmas Lecture.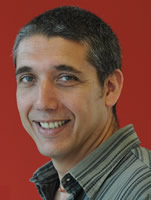 The lecture was given by Professor Jose Torero, winner of the University's Tam Dalyell Prize for Excellence in Engaging the Public with Science.
The BRE Trust/RAEng Professor of Fire Safety Engineering was presented with his prize at the event in George Square Lecture Theatre at 6pm on 8 December, 2010.
In his lecture, Professor Torero discussed how humans have been fascinated with fire for millions of years.
He examined how fire can provide welcome warmth in everyday life but, on a bigger scale, the unpredictability of fire can be terrifying.
He contrasted the emotions associated with fire, depending on whether it is under control or not.
Lecture video
Watch the full lecture, "Fire: A story of fascination, familiarity and fear", by Professor Jose Torero.
Professor Torero
Professor Torero has been head of the BRE Centre for Fire Safety Engineering at the University since 2004, and is committed to addressing the public perception of science behind fire safety.
In the past three years, Professor Torero has given more that 60 talks in more than 20 countries to a diverse range of audiences.
The engineer and his team have also conducted extensive public engagement, including outreach associated with experiments to test fire safety technology at a high-rise building in Dalmarnock, Glasgow.
Video interview
Interview with Professor Jose Torero.
Annual award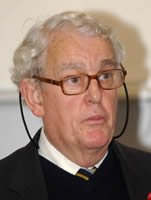 At the event, Professor Torero will be presented with a medal by the former MP Dr Dalyell.
The yearly Tam Dalyell Prize for Excellence in Engaging the Public with Science recognises an individual or group's work in fields including hosting school visits, talks and other public events or through publishing and broadcasting.
The prize is open to all University of Edinburgh staff. The winner receives a grant of £500 for their science communication activity.
Tam Dalyell, an enthusiastic science communicator, was Rector of the University of Edinburgh from 2003 to 2006.
He wrote a weekly column for New Scientist magazine from 1967 to 2005.
Event details
Christmas Lecture: Prof Jose Torero - Fire: A story of fascination, familiarity and fear
This event may be photographed and/or recorded for promotional or recruitment materials for the University and University approved third parties.
Wednesday 8 December 2010, 6.00pm
Wednesday 8 December 2010, 7.00pm
George Square Lecture Theatre
Contact details
For more information on this event please contact Communications and Marketing.
Reference to missing Polopoly article: 1.81050sdl_editor_representation {"caption":""}]
This article was published on