Tam Dalyell backs University prize
Tam Dalyell, the former MP, is to present a new award in his name for raising public interest in science.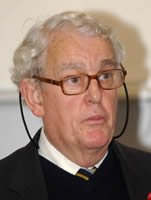 The inaugural award will recognise an individual or group for work such as hosting school visits, talks and other public events or through publishing and broadcasting.
The annual prize - The Tam Dalyell Prize for Excellence in Engaging the Public with Science - is open to all University of Edinburgh staff.
The recipient will receive a medal and a grant of £500 for their science communication activity.
Following the award presentation on December 10, the winner will give the University of Edinburgh Christmas Lecture.
Tam Dalyell
Tam Dalyell was Rector of the University of Edinburgh from 2003 to 2006.
He is an enthusiastic science communicator, and wrote a weekly column for New Scientist magazine from 1967 to 2005.
Eligibility and nominations
To be eligible, the nominated work must have been carried out in the past three years and must have achieved national or international recognition.
Nominees may put themselves forward or be nominated by a third party.
The closing date for nominations is 5 September.
Full details of how to submit a nomination are available for download either in Rich Text Format (RTF) or PDF (requires a PDF viewer such as Adobe Reader).
Contact details
For more information on nominations, please contact Deepthi de-Silva Williams in Communications and Marketing.
Special article found - identified by: 1.2271
This article was published on