New Vice-Principal appointed
A new Vice-Principal has been appointed to focus on improving the quality of the student experience at the University.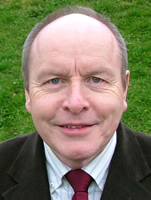 Professor Dai Hounsell is the new Vice Principal for Academic Enhancement.
He will oversee learning and teaching, and support and coordinate initiatives by staff across the University's three Colleges and twenty-one schools.
Student feedback
An initial priority will be enhancing student assessment and feedback, which has been highlighted in recent surveys as an area of concern.
Professor Hounsell holds a personal chair in Higher Education and was the founding Director of the University's Centre for Teaching, Learning and Assessment.
He is a Fellow of the Society for Research in Higher Education and an acknowledged expert on the influence of assessment and feedback on the quality of students' learning.
The quality of our students' experiences at Edinburgh is of the utmost importance, and I and my colleagues across the University look forward to ensuring that those experiences meet the highest standards.
New Assistant Principal
Professor Hounsell will work closely with Dr Susan Rigby, a Senior Lecturer in the School of Geosciences.
She has a strong track record in developing undergraduate and postgraduate teaching.
Dr Rigby is to be designated Assistant Principal - Taught Postgraduate Courses.
Related Links
This article was published on