Cybraphon charms gallery visitors
An internet-connected robotic one-man band is among the items in the first exhibition at the InSpace gallery.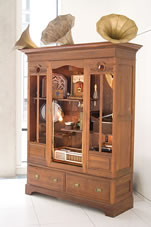 Cybraphon, described by its creators as "an autonomous emotional robot band", features a collection of self-playing vintage instruments including a tiny organ and an accordion housed within a Victorian wardrobe.
But behind its antique appearance is a cutting edge computer brain, whose personality is modelled on an image-conscious rock band.
Cybraphon has accounts on Facebook and Twitter and every 15 seconds checks whether it has received any pokes or tweets, as well as Googling itself and monitoring reviews and comments.
If Cybraphon feels popular, it will play an upbeat tune and post happy Twitter messages to its fans.
When publicity dies down, however, it will sink into depression and grumble online about the lack of attention.
Cybraphon was built by FOUND Electronics.
The software which drives the robot's brain was designed by Dr Simon Kirby of the School of Philosophy, Psychology and Language Sciences.
The response so far to the creation of Cybraphon has been overwhelming – people seem to be able to relate to this unusual musical creation, perhaps because it holds a mirror up to their own insecurities about the online social world.
InSpace
Cybraphon is being displayed as part of the Reveal/Reset exhibition, the first show at the InSpace gallery.
The InSpace gallery is a collaboration between the School of Informatics and New Media Scotland.
The gallery provides a space for exploring the cultural significance of informatics and new media practice.
This article was published on