Study offers hope for Crohn's patients
Crohn's disease patients are being invited to join a study that could find new ways to prevent their condition.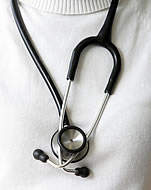 The University is conducting a new study into the prevention of Crohn's disease - a condition that causes ulceration and swelling of the colon.
Painful symptoms
At present, there is no way to prevent or cure Crohn's disease, but patients are prescribed medicine to calm the symptoms of an attack.
These include abdominal cramping, diarrhoea and severe weight loss.
But within 10 years, 65 per cent of patients require surgery to remove their colon and almost all patients experience further flare-ups.
New approach
This study will test whether a drug which is currently given to treat an attack could also be used to prevent the disease recurring after surgery.
Patients who have recently undergone surgery for their Crohn's disease are invited to take part.
They will be followed up for the next three years to determine if the drug has any preventative effect.
The study has been funded by the Medical Research Council and is the only such study in Crohn's disease in the UK.
Crohn's disease is a common cause of chronic ill health in both children and adults in Scotland and influences their quality of life, schooling and work. It is of great importance to all of us that we identify effective new therapies in clinical trials.
Contact details
Anyone interested in the study should call the trial coordinator.
Special article found - identified by: 1.5869
This article was published on