Star names support geography celebrations
Two talks by high profile speakers are being held as part of the University's Centenary of Geography celebrations.
Nicholas Crane, the geographical author and presenter of the BBC television series Coast will give a talk called Great British Journeys on Thursday, 5 February.
Michael Palin, the comedian, actor, writer and television presenter, will talk about his Twenty Years on the Road at an event on Friday, 13 March.
The talks are designed to highlight the relevance of geography to contemporary life.
They have been organised by the University and the Royal Scottish Geographical Society.
Details of how to book for the centenary talks are available on the Geography website.
Geography centenary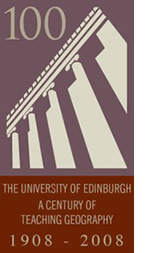 The events are part of a series of activities being staged to mark the Geography Centenary.
Other activities have included a reception, two exhibitions, class reunions and a centenary edition of the Scottish Geographical Journal.
To mark the anniversary, Geography has also launched the Centenary Research Appeal.
Geography at Edinburgh
The study of geography has come a long way since George Goudie Chisholm was appointed to teach geography, beginning in academic year 1908-1909.
His teaching effectively established the Department of Geography, albeit as a one-man affair with mere handfuls of students.
Much has changed in the century since.
There are now 33 academic staff, numerous postdoctoral students and research staff, dozens of postgraduates and hundreds of undergraduates.
Event details
Nicholas Crane - Great British Journeys
Thursday 5 February 2009, 7.30pm
Thursday 5 February 2009, 7.30pm
George Square Lecture Theatre, George Square, Edinburgh, EH8 9LK
Michael Palin - Twenty Years on the Road
Friday 13 March 2009, 7.00pm
Friday 13 March 2009, 7.00pm
Assembly Hall, New College, 1 Mound Place, Edinburgh, EH1 2LU
These events may be photographed or recorded for promotional or recruitment materials for the University and University approved third parties.
Contact details
For more information on these events, including any accessibility enquiries, please contact Cathy Campbell.
Special article found - identified by: 1.6982
This article was published on