Collini to give Enlightenment Lecture
The next Enlightenment Lecture will be delivered by writer and academic, Professor Stefan Collini.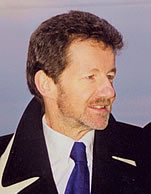 The Professor of Intellectual History and English Literature at Cambridge University and a Fellow of the British Academy, Professor Collini will give the lecture as part of the celebrations to mark the 250th anniversary of English Literature at the University.
The lecture, entitled "From Belles-Lettres to Eng-Lit: Criticism and its Publics", will look at the history of literature and literary study at the University, and examine who the kinds of people who have and will study literature in the past, present and future.
This free lecture takes place on 24 May at the George Square Lecture Theatre.
Enlightenment Lectures
The University's Enlightenment Lectures examine aspects of the Enlightenment's legacy in the context of our own fraught and hectic times.
The lectures encompass talks from global leaders in politics, philosophy, science and economics.
Previous speakers include Steve Jones, Joseph Stiglitz, Daniel Dennett and Irene Khan.
The lecture this year forms part of the University's celebrations of the 250th anniversary of English Literature. Edinburgh was home to the first department of this kind in the world. The University is hosting a year of lectures, exhibitions and activities to mark this milestone.
Professor Stefan Collini
Professor Stefan Collini is an English literary critic and academic, who has been a frequent contributor for publications such as The Guardian, The London Review of Books, The Times Literary Supplement, The Nation, as well as an occasional broadcaster.
His books include Common Reading: Critics, Historians, Publics (2008), Absent Minds: Intellectuals in Britain (2006), English Pasts: Essays in History & Culture (1999) and Public Moralists (1991). Reviewers of his most recent book What Are Universities For? (2012) described it as a "must-read" and "a fine addition to the debate about the purpose of university education".
Enlightenment Lecture: Professor Stefan Collini
Tickets are free.Please note: This event may be photographed and/or recorded for promotional or recruitment materials for the University and University approved third parties.
Thursday 24 May 2012, 6.00pm
Thursday 24 May 2012, 7.15pm
George Square Theatre, Edinburgh, EH8 9LK
Related Links
The Enlightenment Lectures
250 Years of English Literature at Edinburgh
Undergraduate Study - English Literature
Postgraduate Study - English Literature
This article was published on