China: A Photographic Portrait
An unprecedented and unique photographic exhibition, documenting the changing face of China over 50 years.
This event is sponsored by the Confucius Institute for Scotland and the University and is on from 5 July - 14 September at the City Art Centre.
The exhibition
China: A Photographic Portrait offers an unparalleled glimpse of changing life in China as viewed through the lenses of 250 photographers.
Almost 600 photographs record in detail the daily lives of the Chinese people from all walks of life at work, rest and play.
The exhibition records the significance of radical cultural change and captures images which reflect many previously unseen aspects of life in China.
This is the only opportunity to see this exhibition in the UK.
The broad range of authentic images of China – revealed for the first and, possibly, only time in the UK – reflects our Institute's aim of promoting a greater understanding of the diversity and complexity of this huge, rapidly evolving country.
Lunchtime talks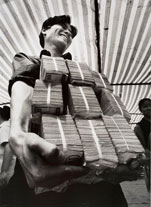 An extensive series of lunchtime lectures complement the exhibition. Admission is included in the ticket price. For information and booking call 0131 529 3963/2.
The Confucius Institute for Scotland
The Confucius Institute for Scotland is a national centre to promote economic, educational and cultural ties between Scotland and China.
The Institute organises events in culture, politics and business and also offers tailor-made courses.
Event details
China: A Photographic Portrait
Monday – Saturday 10am – 5pm and Sunday 12pm – 5pmPrices are £5.00/£3.50 concession; £2.50 child 5-15; £10 season ticket; £10 family ticket.
Saturday 5 July 2008, 12.00am
Sunday 14 September 2008, 12.00am
City Art Centre, 2 Market Street, Edinburgh, EH1 1DE
This article was published on