Our Changing World lecture series
A series of public lectures examining the global challenges facing society, and the role of academia in meeting these challenges.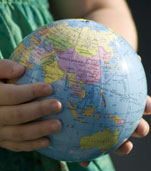 There is a growing recognition across the world of the urgency of tackling a range of difficult, complex and inter-related issues that impact human wellbeing.
These issues include food, energy and water security, the spread of infectious diseases, developments in technology and medicine, and climate change.
The series, delivered by distinguished speakers, focuses on the contribution academia can make to understanding and addressing these global challenges.
Visit the Our Changing World website to find out more about the series and to book online for current events.
Our Changing World
Interdisciplinary course
These lectures also form the basis of a interdisciplinary course for students at Edinburgh.
This optional course aims to engage our students to:
think about these global challenges across traditional subject boundaries
understand the relevance and impact of their own subject discipline in the broader context
Our Changing World - undergraduate course
Social responsibility and sustainability
The University ensures that social, ethical and environmental concerns influence its decision making and the way it operates day to day.
We were recently ranked as third best in the UK's higher education sector for environmental and social responsibility.
Contact details
For more information on these events, please contact Lauren Sandford.
Notes
These events will be photographed and recorded for promotional and recruitment materials for the University and University approved third parties.
Related Links
Our Changing World
This article was published on