Chancellor honours innovators
HRH The Prince Philip Duke of Edinburgh has presented awards to three members of staff at a gala dinner.
The Chancellor's Awards were made in front of some 200 supporters of the University in the Palace of Holyroodhouse on Monday.
Significant advances
Professor Joanna Wardlaw, Head of the University's Centre for Clinical Brain Sciences, was presented with an award in recognition of her internationally recognised research.
Prof Wardlaw is an outstanding researcher in the field of brain imaging, who is responsible for significant advances in the discipline.
Dr Siân Bayne, of the School of Education, was honoured for her innovative work in teaching.
Dr Bayne became a senior lecturer in 2005 and has since been responsible for developing an online Masters programme in e-learning
Innovation and creativity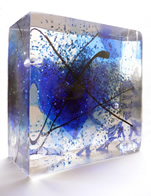 Dr Polly Arnold, of the School of Chemistry, who is building a growing reputation for her research into heavy metals, received the Rising Star award.
Dr Arnold is recognised as one of Britain's most creative synthetic chemists "We try to make molecules that textbooks say shouldn't exist - weird molecules with electrons where they shouldn't be," she says.
The Chancellor's Awards
The awards, now in their fourth year, are presented in recognition of innovation, relevance, creativity and personal dedication.
The awards, crafted in glass, are the work of Elin Isaksson, Artist in Residence at the Edinburgh College of Art.
This article was published on