Gala awards for innovators
HRH The Prince Philip Duke of Edinburgh has presented awards to four members of staff at a gala dinner.
The Chancellor's Awards were made in front of some 200 supporters of the University in the Palace of Holyroodhouse on Monday.
Medical advances
Professors Harry Campbell and Malcolm Dunlop, of the School of Molecular and Clinical Medicine, were presented jointly with an award in recognition of their internationally-recognised research.
They have revolutionised medical understanding of genetic susceptibility to colorectal cancer, a major cause of death worldwide.
The impact of their research will be reflected in screening, disease prevention, disease stratification and personalised treatment.
Teaching excellence
Dr John Lee, who is affiliated to the School of Informatics and the School of Arts, Culture and Environment, was honoured for his innovative work in teaching.
Lee has led the development of a system known as "YouTute", a new learning resource that makes video recordings of tutorial discussions available to students.
The tutorials are streamed in an online environment and students can annotate, comment on and share them, and keep them for future reference.
Innovation and creativity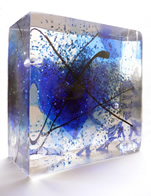 Dr Giles Hardingham, of the School of Biomedical Sciences, received the Rising Star Award.
Dr Hardingham's research focuses on the impact of glutamate signalling on the survival and death of neurons.
It has profound implications for rational drug design in stroke, Alzheimer's disease and other neurodegenerative conditions.
The Chancellor's Awards
The awards, now in their fifth year, are presented in recognition of innovation, relevance, creativity and personal dedication.
The awards, crafted in glass, are the work of Elin Isaksson, Artist in Residence at the Edinburgh College of Art.
This article was published on