Jorge Cham public lecture
Jorge Cham, author of the "Piled Higher and Deeper" (PHD) comics, will give a talk on Wednesday 14 May.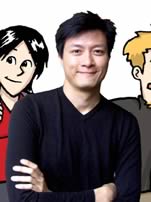 The lecture, entitled "The Power of Procastination: Surviving Graduate School and Deciding What's Next", will be held at Lecture Theatre 1 in Appleton Tower at 5pm.
In this talk, Cham recounts his experiences bringing humour into the lives of stressed out academics, examines the source of their anxieties and explores the guilt, the myth, and the power of procrastination.
The lecture will be followed by a drinks reception and book signing, to be held on Appleton Tower concourse.
A small number of Cham's "Piled High and Deeper" (PHD) books will be available for sale on the night for £10 each. To reserve your book, please email Diana Sisu with your name and the title of the book.
Book by email
Email Diana Sisu to confirm your attendance and to reserve a copy of Cham's PHD book if desired.
Special article found - identified by: 1.2829
Jorge Cham
Cham is the author of the "Piled Higher and Deeper" (PHD) comics which appear regularly in several university and college newspapers around the world.
Often called the Dilbert of academia, PHD is published online where it receives over 7 million page views a month from over 1000 universities and colleges worldwide.
The Power of Procrastination: Surviving Graduate School and Deciding What's Next
Wednesday 14 May 2008, 5.00pm
Wednesday 14 May 2008, 5.00pm
Appleton Tower Lecture Theatre 1
Related Links
This article was published on