New Visitor Centre opens
The University has opened a state-of-the-art visitor centre, showcasing all aspects of staff and student life. The new building includes a shop, exhibition space and information centre.
It forms part of the University's new multi-million pound Potterow development on which work first began in 2005.
Wide range of products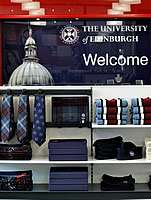 The Visitor Centre will stock around 400 lines of University merchandise, including items in the new tartan, launched last November.
Also available are a wide variety of books, including works of fiction and non-fiction linked to the University.
Access to information
The centre will be the first port of call for anyone who has any kind of interest in the University past, present or future.
Interactive workstations will allow visitors to trace more than 400 years of University history and search for up-to-date information on University news and events.
There will also be a range of University publications available as well as a team of staff to help with inquiries from visitors.
Exhibition highlights alumni
The first exhibition at the Visitor Centre will feature medals of Olympic athlete and University graduate Eric Liddell.
Also on display will be a University flag which was taken into space by the NASA astronaut and University alumnus, Dr Piers Sellers.
Location and opening times
The centre is based on Charles Street opposite Teviot Row House and will be open from 9.30am to 5pm, Monday to Saturday.
It replaces the former information centre and shop on Nicolson Street.
The new visitor centre is an excellent resource for showcasing the history, diversity and ambitions of the University. It will help us to show our immediate neighbours here in Edinburgh and the many thousands of visitors from overseas that we are a welcoming and accessible institution which has an important part to play in the local, national and international community.
This article was published on