DNA study pinpoints Celtic connection
A new genetic study provides scientific proof that the links between the Scots and Irish are strong.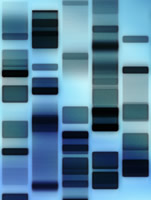 The research has been carried out by University geneticist Dr Jim Wilson.
It is the most detailed survey of Scottish paternal genetics to date. Dr Wilson says it is the first demonstration of a significant Irish genetics component in Scots' ancestry.
Traditions and genetics
The findings feature in a BBC 2 programme, Air a'Chuan (On the Ocean), which airs on Thursday 2nd April.
It studies the traditions and genetics of Scots living on Islay, Lewis, Harris and Skye and aims to provide participants with a genetic family tree.
The genetics of one participant suggest that agriculture was brought to Europe between 5,000 and 10,000 years ago.
The programme also highlights Viking links to the Western Isles, showing that as many as 40 per cent of the population are of Scandinavian origin.
It was very exciting to see for the first time the ancient genetic connection between Scotland and Ireland – the signature of a movement of people, perhaps of the Scots or Gaels themselves.
This article was published on