Careers Fair 2009
Students - get a head start with employers at the Careers Fair on Tuesday 6 and Wednesday 7 October in Adam House.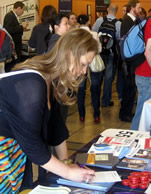 The event starts at 1.30pm each day and finishes at 7pm, with last entry at 6.30pm.
It's a great chance to find out about potential career opportunities all in one place - no matter what stage you are at in your career planning.
Final year students can find out about graduate jobs and other students can investigate work experience and internships.
This event is hosted by the University's Careers Service.
The Careers Fair is open to all University of Edinburgh students - undergraduate and postgraduate. Staff are also welcome to attend.
Exhibitors
There will be around 120 organisations exhibiting - different ones each day.
The exhibitors are a mixture of all kinds of employers and professional bodies.
Try and come along both days or check the list of exhibitors so you don't miss anyone you really want to talk to.
Talks
As well as meeting the exhibitors, you can also attend talks on getting started with the careers service and getting into various careers:
art and culture
the civil service
international development
the media
policy work
PR and events management.
All talks will take place in the basement theatre at Adam House - just turn up 5 minutes in advance of the ones you would like to attend.
Event details
Careers Fair 2009
Last entry is 6.30pm
Tuesday 6 October 2009, 1.30pm
Wednesday 7 October 2009, 7.00pm
Adam House, Chambers Street, Edinburgh, EH1 1HT
Related Links
This article was published on