Study initiative helps care leavers
An initiative that helps young adults living in care to go on to higher education has been launched at the University.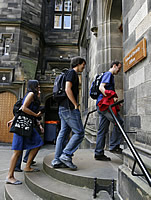 Adam Ingram, the Scottish Government's Minister for Children and Early Years, delivered the keynote address at the launch of Care Leavers in Higher Education.
Mr Ingram welcomed the project's aim of ensuring that young people leaving the care system see higher education as a viable option.
Wide support
The Frank Buttle Trust, a leading care charity, awarded the project its Quality Mark.
The award recognises organisations that go the extra mile to support students who have been in public care.
The project
The programme relies on support from staff throughout the University.
It also seeks to establish effective working relationships between the University and professionals from a wide range of care agencies.
We know that young people leaving care will often be going through turbulent times, with many obstacles to overcome. That's why the support given by institutions with the Frank Buttle Trust Quality Mark is so important.
This article was published on