Venture to help firms cut emissions
Businesses struggling to reduce their carbon footprint will benefit from a new venture that helps them cut emissions.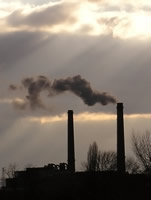 The venture is backed by the University's Business School and Environmental Data Services (ENDS).
ENDS is the environmental publishing unit of Haymarket Media Group.
The ENDS Carbon initiative will provide detailed analysis to organizations, benchmarking their environmental performance against their peer group.
The first report, to be published in May, will evaluate the UK supermarket sector and is backed by Tesco, Asda, Marks & Spencer and Waitrose.
Reducing carbon emissions
ENDS Carbon director Craig Mackenzie said: "This new venture will show them how they are doing against their peer group and highlight opportunities to improve performance.
"Reducing carbon emissions is becoming big business, and it is one of the few parts of the economy still growing in the recession."
ENDS Carbon will bring a new depth of expertise to the capacity of ENDS to interpret and inform on climate and carbon challenges.
Hub for carbon technology
The new initiative, a spin-out from the University's Business School, has secured a significant investment from Haymarket Media Group.
The spin-out combines the University's carbon benchmarking expertise with the reach of ENDS in the business community.
It underlines Edinburgh's emerging role as a hub for low carbon technology and carbon start-up businesses.
The University is now a major international centre for carbon science, carbon capture technology, and carbon management education.
The new venture builds the Business School's international reputation for leadership in this area and provides much-needed knowledge to the business community as we move to a low carbon economy.
Related Links
This article was published on