Project cultivates green awareness
Farmers in an African village are being encouraged to preserve forestry and woodland in a project involving researchers from the University.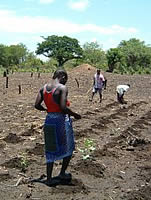 The pilot project, in N'hambita, Mozambique, will be used to help draw up guidelines for similar schemes when experts gather in Edinburgh this week.
The project is managed by Envirotrade with support from the European Union.
Promoting biodiversity
N'hambita village is part of a tropical ecosystem dominated by trees and supports a diverse range of species. The area has suffered from deforestation and forest fires.
Under the scheme, farmers are encouraged not to slash and burn forestry but to adopt farming methods which promote biodiversity and improve local livelihoods.
The farmers are funded by carbon offsetting schemes, in which consumers pay a fee to offset environmental damage associated with a purchase - for example when booking a flight.
Future schemes
Experts in tropical woodland ecology and carbon storage, together with policy makers and investors, will discuss the project this week.
They will meet for a conference, Carbon and Communities in Tropical Woodlands, at the University.
Delegates will create guidance for setting up and managing carbon offsetting projects in tropical woodlands, for use by international funders and other organisations.
If we can encourage farmers to manage the land sustainably while boosting their income, both the land and the villagers can benefit. We hope that the pilot project will provide lessons for future schemes
This article was published on