Free book swap
To mark 500 years of printing in Scotland, a public book swap is being held in Adam House on Tuesday 1st April.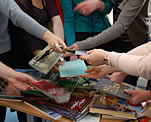 Entry is free and everyone is welcome to attend.
Just bring along a favourite book, write a recommendation card and swap your book for another.
Scottish publishers are donating hundreds of books to get the event started - children's books, novels, biographies, sport - something for all readers, young and old.
There are also prize draws, giveaways and a chance to speak to some top Scottish authors.
The giant book swap will take place from 11am - 2pm.
This event is presented by Publishing Scotland, in collaboration with the University and Edinburgh UNESCO City of Literature.
Event details
Book swap
Tuesday 1 April 2008, 10.00am
Tuesday 1 April 2008, 1.00pm
Adam House, 3 Chambers Street, Edinburgh, EH1 1HT
Contact details
Special article found - identified by: 1.2242
This article was published on