Tam Dalyell prize 2009
Computers of the future were the subject of a talk by the winner of this year's prize for engaging the public with science.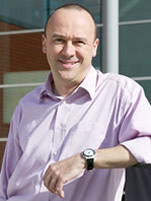 Chris Bishop, Professor of Computer Science in the University's School of Informatics and Chief Research Scientist at Microsoft Research Cambridge, explored the topic in the University Christmas Lecture, given during the award ceremony on 9 December.
Explosive material
Professor Bishop used explosive experiments to demonstrate his talk, in which he also considered the likely impact of new materials for computer memory storage.
Professor Bishop's public engagement activities include presenting the Royal Institution Christmas Lectures in 2008. These were broadcast on Five TV to almost five million people. He has also given many public talks on science.
Video
Interview with Chris Bishop
Unknown element of type: mediaStream found
Computers of the future - full lecture
Unknown element of type: mediaStream found
Annual award
At the event, Professor Bishop was presented with a medal by the former MP Dr Dalyell.
The yearly Tam Dalyell Prize for Excellence in Engaging the Public with Science recognises an individual or group's work in fields including hosting school visits, talks and other public events or through publishing and broadcasting.
The prize is open to all University of Edinburgh staff. The winner receives a grant of £500 for their science communication activity.
Tam Dalyell, an enthusiastic science communicator, was Rector of the University of Edinburgh from 2003 to 2006. He also wrote a weekly column for New Scientist magazine from 1967 to 2005.
Related Links
This article was published on