Scientist wins illustrious award
A University researcher has joined some of the greatest scientists of recent times in winning an international award.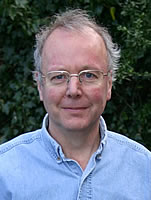 Professor Adrian Bird is the 2008 recipient of the Charles Leopold Mayer Prize from the French Academy of Sciences for his work in biology.
Previous winners
Previous winners include Francis Crick, who discovered the structure of DNA, and Barbara McClintock, a genetics pioneer and winner of a Nobel Prize for medicine.
Professor Bird is Director of the Wellcome Trust Centre for Cell Biology at the University.
He oversees a team of fifteen research groups working in cell biology and molecular biology.
Research funding
Professor Bird's award carries a cash prize of 38,000 euros to be used to further his research.
The academic will be presented with his award at a ceremony in Paris on 21 October.
I was surprised and delighted to hear that the French Academy has recognised the work of my research group in this way. Many of my scientific heroes received this award before me – it is an honour to be included on such an illustrious list.
This article was published on