Engaging success
The University is celebrating four years of successful and ground-breaking public engagement activity as one of the partners in the Beacons for Public Engagement programme.
Created in 2008, the Edinburgh Beltane was one of six beacons UK-wide to benefit from £9.2 million of investment from the UK's Higher Educations Funding Councils, the Research Councils UK and the Wellcome Trust.
Changing culture
The remit was to change the culture in universities to support, recognise and embed "public engagement" - a term describing the many ways in which the activity and benefits of higher education and research can be shared with the public.
Working with a variety of partners across Scotland and beyond, we have developed our public profile by:
increasing our presence significantly at events such as Edinburgh's International Science Festival;
engaging with policy makers via the Scottish Parliament;
hosting free lecture series and exhibitions using venues such as the experimental public space "Inspace", housed in the recently-built Informatics Forum.
We have also created a total of 15 Edinburgh Beltane Public Engagement Fellows from Science, Medicine, and Social Sciences, encouraging academics to disseminate and explain their research to a wide range of audiences.
Bright sparks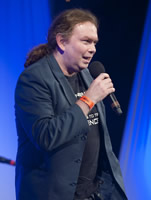 One of the most unusual projects involved persuading academics to do stand-up comedy as part of "Bright Club", a monthly session at The Stand venue, as a way of engaging the public with their research.
Researchers from Edinburgh, Edinburgh Napier, Heriot Watt and the University of Glasgow even performed at the Edinburgh Fringe in 2011 to great acclaim.
In turn it gave them vital experience in simplifying their research for a non-specialist audience and greater confidence when addressing large groups of people.
They perform again this year on 26 August at the BBC Comedy venue.
I enjoy giving talks, 'performing' if you like, a lot more than I used to. I think if the speaker is enjoying themselves, then it's easier to get the audience to do the same, be that in a comedy club, or an academic seminar."
Looking forward
The project will continue with funding from the four partner universities in Edinburgh - Edinburgh, Heriot-Watt University, Edinburgh Napier University and Queen Margaret University as they continue their efforts to develop new and exciting ways of engaging with the wider public.
I strongly believe that a piece of research is not complete until it is in the public domain. As research is funded by charities and governments, researchers should be engaging with and listening to the wider public. It's the public who provide the cash by taxes and donations and it's the public who are affected in their everyday lives by the way in which research outputs are used.
This article was published on